General Settings
---
When you open the settings window it will show the general settings tab by default.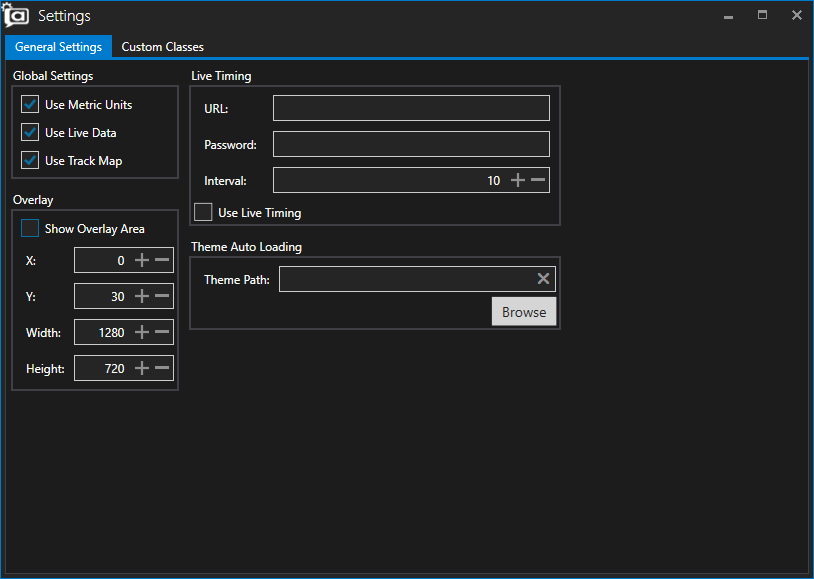 Global Settings
In the global settings area you can enable/disable several options
Use Metric Data: Enables metric data like kph instead of mph
Use Live Data: Enables live data usage (see below)
Use Track Map: Enables the trackmap functionality of the Timingscreen
Overlay
Show overlay area: Enables a visual helper to set up the overlay area. Ensure to disable it while broadcasting!
X: Move the overlay area on the X-axis (offset in pixels)
Y: Move the overlay area on the Y-axis (offset in pixels)
Width: Enter the desired width of the overlay window in pixels, i.e.: 1280
Height: Enter the desired height of the overlay window in pixels, i.e.: 720
Live Timing
URL: Enter the URL of the location of your live timing application (location of post.php)
Password: Enter the password specified for the live timing
Interval: Choose an update interval. Default is 10 seconds
Use Live Timing: Enables the live timing functionality
Theme Auto Loading
Theme Path: Choose a path for the theme you want to be loaded on startup
Live Data Usage
Live data means that ATVO calculates live gaps and intervals between cars based on their position on track. To make sure that the calculated data is correct, you PC needs to be able to show every single car in a session. If a car is missing at some point due to graphic limitations, the live data becomes invalid. If you cannot make sure to show each car at any time during a race, we recommend to disable live data.